Create a more efficient digital workflow, while keeping that "hand drawn" feel your clients love.
Do you love to hand draw landscape plans, but can't help but wonder if there's a more efficient workflow out there? One that will allow you to maintain your unique style AND allow you to design and iterate quickly and easily?
Procreate may be the solution you're looking for!
The Great at Procreate course helps overwhelmed landscape designers save time with a streamlined digital workflow, while still keeping that "hand drawn" feel your clients know and love.
Learning Procreate is NOT about giving up hand-rendering.
It's about giving yourself the flexibility to design quickly and on-the-go when you're swamped with work and NEED to get things done. Procreate can give you your time back... and isn't that something we all deserve?

Maintain your hand-drawn style


Version A was drawn and colored completely with Procreate.
Version B was hand drawn and colored using Prismacolor markers.
Why do they look so similar? Because I drew both of them! Using Procreate will not remove your style and personality from your drawings... it will just make it easier to create on the go without all of your drawing tools, pens and markers.

What To Expect
✏️ The content is pre-recorded and you will receive all of the modules upon signing up.
✏️ Each module will have video lessons as well as an assignment to work on.
✏️ You can submit your questions about the module/assignment. I'll answer your questions in the comments of the Questions lessons.
✏️ The content of each module builds on the previous module to help you to master Procreate along the way.
✏️ By the end, you will complete an entire design project from start to finish using Procreate. You can use your own project or follow along with the example project.
✏️ You'll have the option to continue your learning with two BONUS "advanced" modules that will cover 'Advanced Coloring Techniques' and 'Advanced Perspective Tools.' You'll learn them at your own pace after completing the course ($300 value).
✏️ Unlimited tech support is NOT included with your purchase. You'll have support for 6 weeks.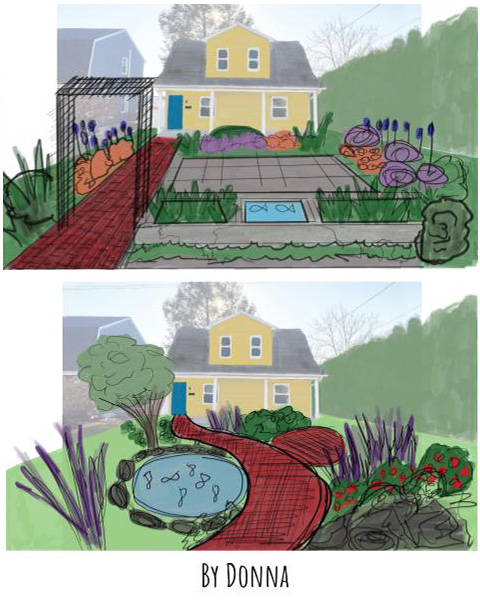 You have over-delivered!

"I wanted to tell you how much I appreciate this course. I have this big dream to have my own hobby/business helping others with small scale gardening plans and design, so it was important to me to find your course.
I feel I need to go through the Procreate course again because it was packed full of so much exciting and inspiring content. Too much to remember. I now have a door that has been unlocked and opened up to endless possibilities with Procreate.
I have experience building an online course so I am very aware of the time you've spent, and that you have served your clients extremely well. In fact, you have over-delivered with content."
-Donna

Who Is This Course For
This course is perfect for you if
✅ You are breaking into the landscape design field and want a professional way to present your plans to clients, without having to learn complicated/technical CAD software.
✅ You are looking for a digital alternative to hand drawing landscape plans.
✅ You regularly provide illustrations to your clients (and/or contractors) in order to share your aesthetic vision for a project.
✅ You're feeling overwhelmed and sometimes get SO busy that it's difficult to keep up with hand drawing.
✅ You want to be able to draw "on the go" when you don't have access to your drafting table, rulers, pens and markers.
✅ You wish you could save time by hand drawing objects or patterns once, then reusing them in other designs.
✅ You LOVE the look and feel of hand drawing... and don't want to lose your personal style... but still know there HAS to be a better way.
✅ You want to enhance computer renderings (from CAD, Sketchup, Rhino, Blender, etc.) and make them feel more "hand drawn."
Who Shouldn't Take This Course
This course is not perfect for everyone. So, if you're on the fence, you should NOT take this course if:
❌ You don't want/need to illustrate landscape designs for your clients.
❌ You don't know how to design a landscape plan. This course will show you how to draw digitally does not teach you how to design a landscape plan. You may want to invest in landscape design classes, first.
❌ You don't have an iPad and Apple Pencil. You'll need both to take this course.
❌ You have an older iPad that's not compatible with the Apple Pencil. You can check compatibility here.
❌ Your current hand-rendering process is working GREAT for you and you don't really want to learn a new piece of software. Forcing yourself to do this when your mind is not in the right place will just create more 'stress' and less 'success.'

Student Success Story
From Concept Drawing to Completed Project
After one-on-one training, Tammy Sheffer-Bracha of tsbracha.design was able to use Procreate to develop her vision for this project and share it with the home owners and construction crew.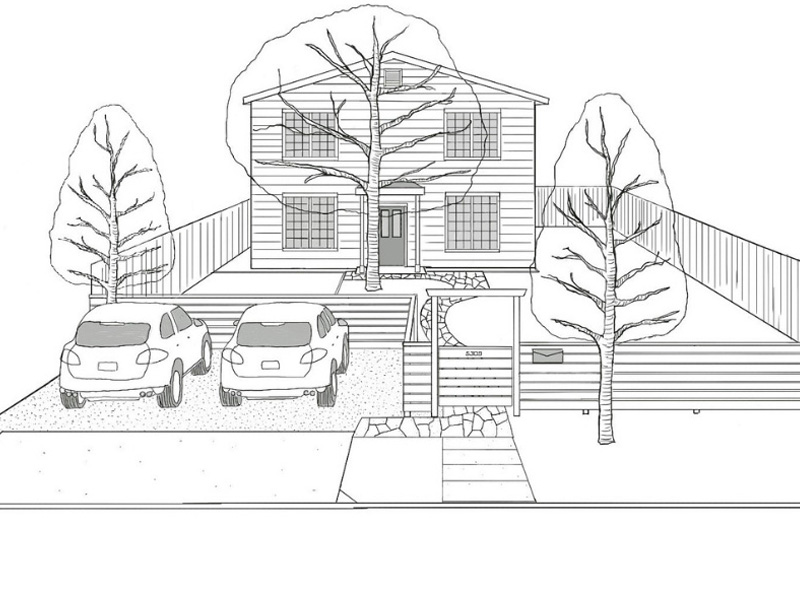 Tammy started with a accurate (to scale) hand illustration in Procreate using 1 point perspective.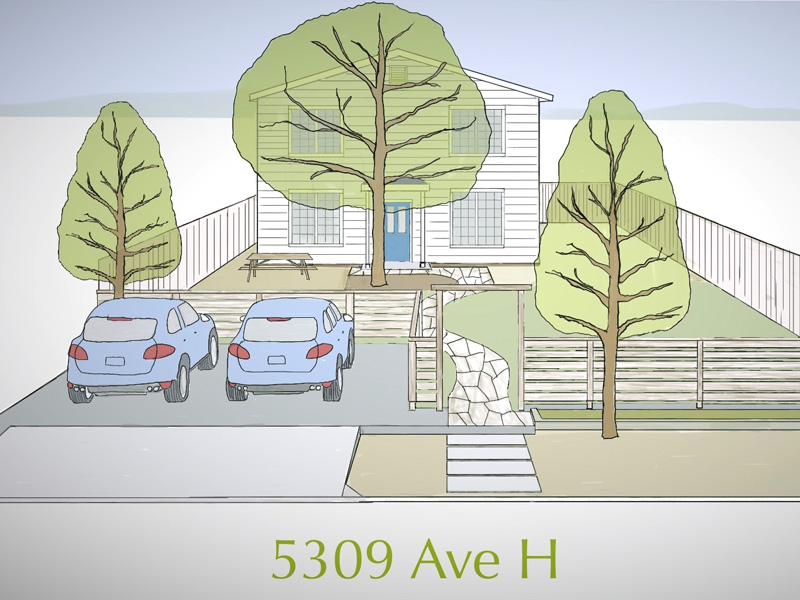 She then used Procreate to add color to her design and bring it to life with personality.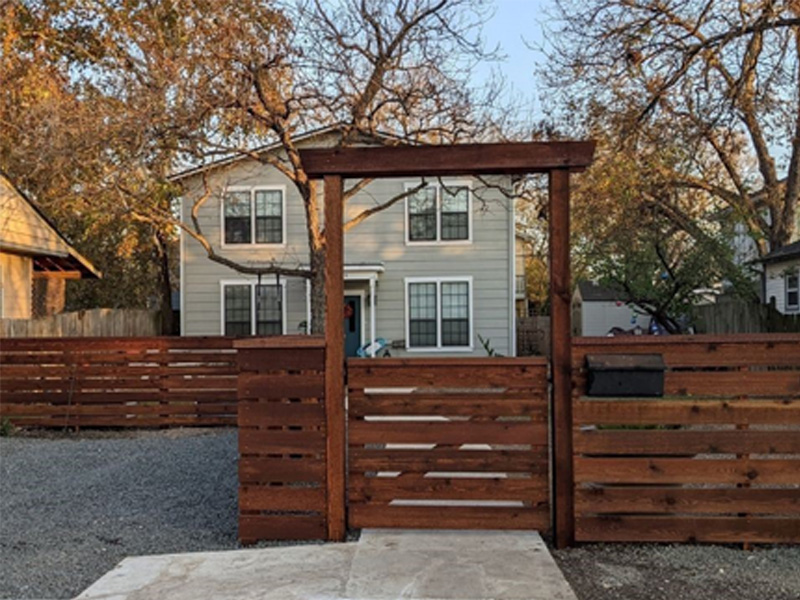 Bringing the Vision to Life

The client loved her drawings and signed off on the project. Here is the beautiful end result!

What You'll Learn
In this course, you'll learn how to create a more efficient digital workflow, while keeping that "hand drawn" feel your clients love using Procreate on the iPad.

Module 1 - Procreate Basics
In this module, you'll discover all of the basic features of Procreate and where things are in the app. You'll also learn how to use canvases, file stacks and hand gestures. Finally, you'll explore Procreate brushes and select some favorites.
By the end of this module you will be able to:
Navigate around all of the menus within Procreate.

Name and rename files.

Share, duplicate and delete files from the gallery.

Create file stacks and move files in and out of stacks.

Create new canvases and canvas presets.

Use hand gestures to speed up your workflow.

Use all of the brushes in the Procreate library.
Module 2 - Use Procreate Brushes
In this module, you'll take a deep dive into the Procreate brush library. I'll show you how you can use Procreate's QuickShape function to draw straight lines and smooth, crisp shapes. We'll learn how pressure sensitivity and opacity can improve your workflow and create dynamic drawings.
Then, we'll create a favorites folder so all your "go to" brushes are in one easy-to-access place. I'll show you how to add presets to the size and opacity of your brushes. And, I'll share a tutorial for matching your Procreate brush sizes to your physical pens. Then, we'll import and use a special "Plant Symbol" brush set that I made just for landscape designers. 
There will be a handful of exercises in this module so you can practice drawing shapes, lines and plant symbols freehand. Then we'll take it up a notch with Procreate's QuickShape functions and the plant symbol stamps.
By the end of this module you will be able to:
Draw shapes and lines that are straight, crisp and smooth.

Manipulate your brushes using pressure sensitivity and opacity.

Import custom brush sets.

Create a library of your favorite brushes.

Add presets for the size and opacity of your brushes.

Use the custom plant symbol brush to stamp plants onto your canvas like magic!
Module 3 - Property Base Sketch
I'll take you step by step through importing a photo and tracing a property in Procreate.
By the end of this module you will be able to:
Import your own photos and images into Procreate.

Draw the "bones" of a property in Procreate (outline of house, windows, rooflines, property lines, etc.).

Quickly add splashes of color to a drawing.
Module 4 - Digital Sketching
This module will cover the limitations/downsides of using Procreate and how to overcome them. You'll also learn how to sketch your ideas over a photo and sketch a design layout in plan view.
By the end of this module you will be able to:
Sketch your rough ideas on top of a photo of a property.

Erase mistakes you've made.

Refine your loose sketches to be more polished.

Add basic color to your sketches.
Module 5 - Design in Plan View
This module will cover how to draw a plan (overhead) view to scale in Procreate.
By the end of this module you will be able to:
Show, hide, rename and move layers around, with a basic understanding of what layers are and how they work.

Draw a plan view to scale with Procreate.

Duplicate, rotate and resize objects in plan view.

Create a brick pattern by drawing just a few bricks.

Add text/labels to your plan.



**BONUS**
2 Advanced Procreate Modules
$300 VALUE
You also get access to these two advanced modules that will take your new Procreate skills to the next level.

*Advanced Color Techniques
This module will cover how to use color to liven up your drawings in Procreate.
By the end of this module you will be able to:
Pull color swatches from photos.

Import color palettes based on photos (like a photo of a sunset, for example).

Color over a photo or rendering without having to redraw it.

Fill your sketches with color in several different ways (color drop, automatic, with brushes, etc.)

Adjust the hue, saturation and brightness of a color in your drawing.

Create a soft sky and grass background.

Turn a boring CAD blueprint into a work of art with a hand-drawn feel.
*Advanced Perspective Tools
This module will cover how to use Procreate's Perspective Tools to draw in 3D.
By the end of this module you will be able to:
Turn a basic Plan View drawing into a 3D perspective view.

Draw in perspective by marking the vanishing points in your design.

How to use Isometric guides for easily drawing 45 degree and 90 degree lines.

Easily add a fence to the property line in a 3D drawing.

Import and distort a hardscape pattern to make it fit into a 3D project.
*Note: These advanced modules are not needed in order to use Procreate as a landscape designer. They cover more advanced features that will improve and streamline your workflow.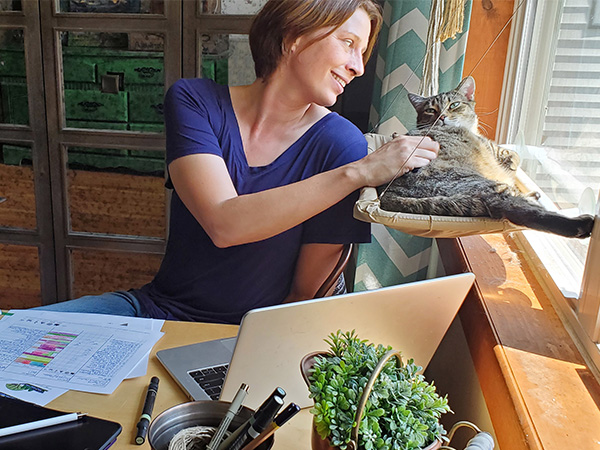 Meet Your Instructor

Hello! My name is Amy Fedele and I live in NE Pennsylvania. I have a degree in graphic design and media technology and 15+ years experience in the field. Since 2014, I've been teaching garden design and writing gardening articles on my website, PrettyPurpleDoor.com.
Below are some reasons why I feel I'm uniquely qualified to teach this course. I hope it helps you to make the right decision for YOU!


Why I'm Uniquely Qualified to Teach Procreate to Landscape Designers


✅ I am educated in technology, communications, design AND landscaping: I have a degree in Mass Communications and Media Technology and a diploma in Garden Design and Maintenance. I've worked in tech/design for over 15 years and landscaping for 8 years.
✅ I love technology: I have been using Adobe products (Photoshop, InDesign, Illustrator, etc.) for the last 25 years. So, I'm no stranger to tech & design. I love to try out ANY new software that comes out. My love of tech comes out in my teaching, making it fun and easy to follow along.
✅ I've trained many non-techy people: I spent 6 years managing a very large University website, while providing training and ongoing support to 170 (mostly non-techy) web content editors tasked with updating various areas of the website. So, if you're not a tech-geek like me... that's ok... I've got your back.
✅ I have A LOT of patience: I spent 5 years providing training and support at an international nonprofit that teaches women in Africa basic computer and finance skills. During my time there, I trained over 25 staff members in Africa how to video chat, how to create/submit/manage online forms, how to use social media, how to take better photos and how digitally share docs/photos/videos to staff halfway across the world. Many of the women I trained had never even TOUCHED a computer... so I'm sure that you are lightyears ahead of where they started.
✅ This ain't my first rodeo: 400+ students have completed my other online courses about planting design. I've also taught tech-related online courses about marketing and Facebook advertising. The most common feedback I receive is that my lessons are always "easy to understand and get straight to the point."

More Student Work
Here are some illustrations completed by Great at Procreate students.

Frequently Asked Questions

How much does the course cost?
The course is $600 USD.
You can split this up into 3 monthly payments of $200/month.
Or, pay in full for $550 ($50 discount).
When is the deadline to sign up?
This course is self-study so you can sign up at any time.
When does the course start and finish?
You can start watching the lessons as soon as you purchase and will have lifetime access to the video lessons.
How many Zoom calls are there? What day/time will they be?
There are no Zoom calls or group lessons. This is a self-study course.
How do I get support if I need it?
You will be able ask a question in the comments section of each module. I will answer your question there.
How much time will I need to dedicate to this?
You can expect to spend at least 2.5-3 hours/module on this material. There are 7 modules total, which totals 21 hours.
Can I draw a scale plan in Procreate?
Yes, absolutely. I will show you how to do this in the course.
I am nervous that the modules are "self-study." Are you going to go over this content beforehand?
Don't be nervous about the "self-study" modules. All this means is that the content is pre-recorded and you watch the lessons and learn the content on your own time.
What if I'm unhappy with the course? Is there a guarantee?
I would never want you to be unhappy! You will have 14 days to request a refund if you do not find the content valuable.
What if I still have questions?
If you have any more questions, please email me at [email protected] and I'm happy to answer any other questions you have.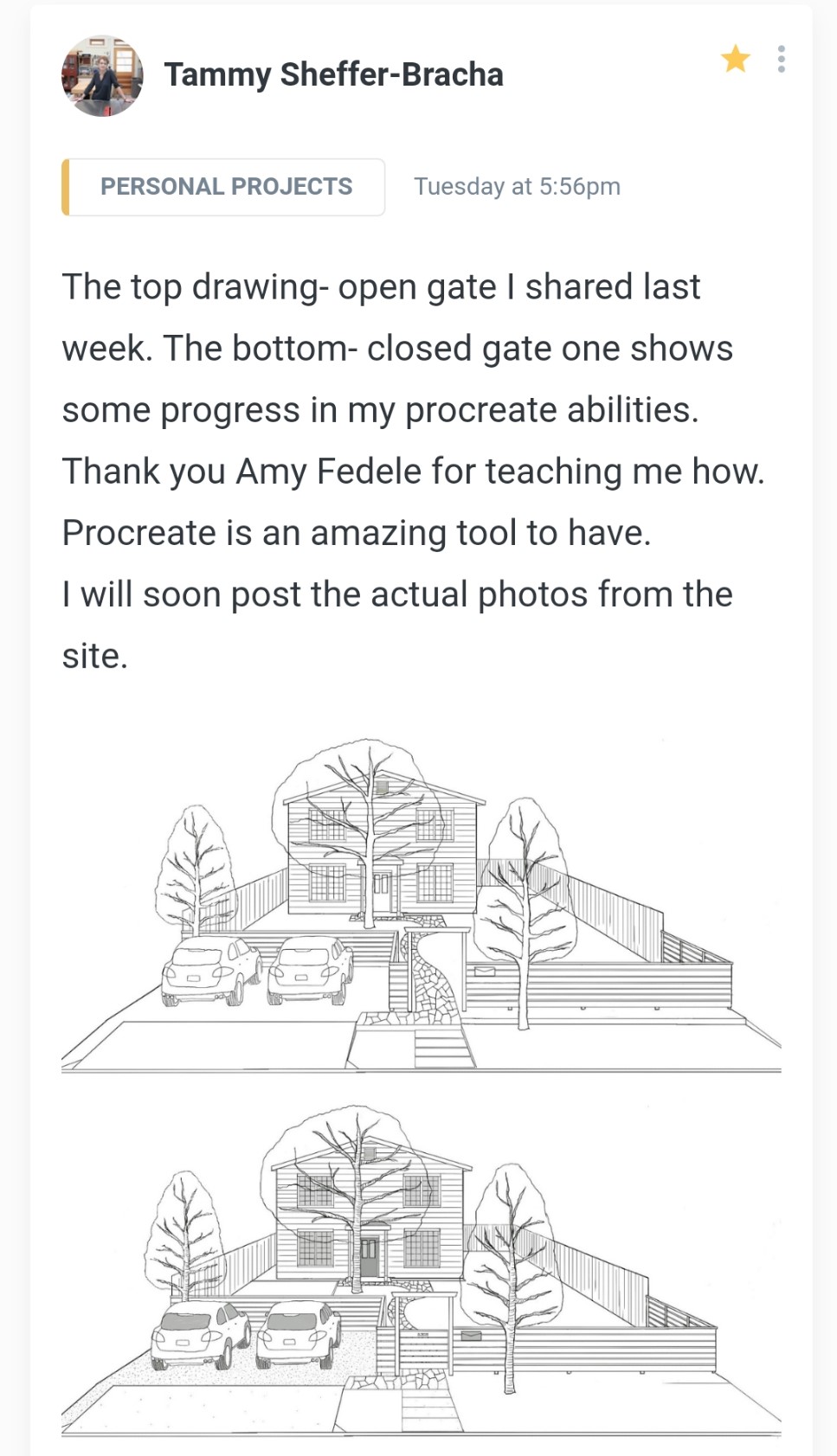 "A while back I asked Amy Fedele to teach me to use the procreate drawing app. This app is only available on iPads, and I bought one thinking this would be a good investment. I was not wrong. This app is AMAZING. But, I could not have managed to learn this so quickly and efficiently without Amy. She is truly a gifted instructor!
My graphic tool kit has finally expended into the 21st century. Amy made it possible! Our one on one sessions were so much fun!!! and she is always there if I have additional questions."
-Tammy Sheffer-Bracha of tsbracha.design

"I can't thank you enough for teaching me Procreate! With it, I think I can feasibly start pivoting my way to a (part-time) career in landscape design. With hand-drawing, I was soooo slow. Digital drawing is the bomb!"
-MaryAnn



"Not only have I mastered a new skill, I feel as though I have more confidence to partake in other Zoom meetings. I'll miss the Q&As chatting with you and the others. Very many thanks."
-Student, 'Great at Procreate'