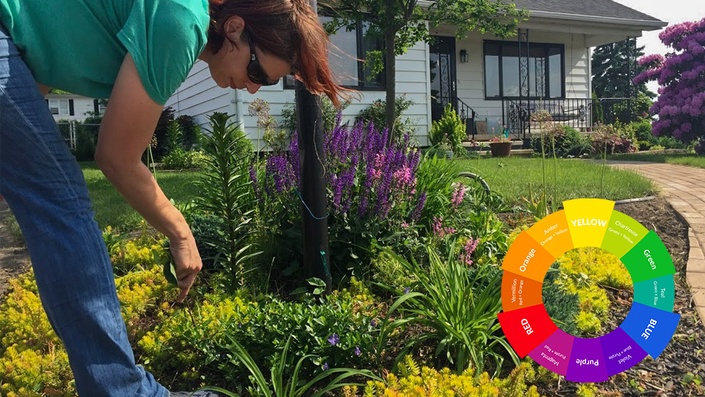 Design Your 4-Season Garden
I'll show you how to create gorgeous garden beds that look outstanding in every season!
Watch Promo
Enroll in Course
Are you frustrated with figuring out what to plant and where? Is your yard filled with weeds, rocks and deer that are ruining your dreams of a beautiful, unique landscape? For beginner gardeners, these problems can be paralyzing… leaving you with a lot of uncertainty and stress about how to even GET STARTED.
You are not alone. I felt the same way when I started gardening. And no matter how many books I purchased or blogs I read, I never found a clear-cut, step-by-step answer to my burning question:

How do I design a unique landscape that looks great all year round?
In my 4-Season Garden Design Course, you'll learn my framework for combining plants to create a colorful, unique home landscape that blooms all year long. Use the framework over and over again to improve your landscape, one "garden room" at a time.
My simple design system is easy, fun and suitable for all skill levels.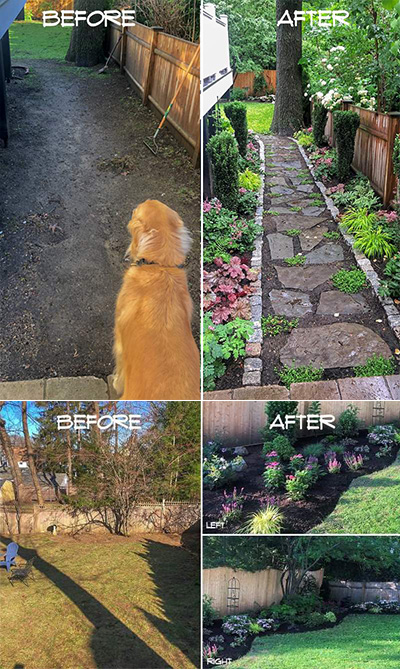 Melissa's Garden, Before & After
"This course is fantastic! Amy has done a very thorough job in preparing top notch videos and a plethora of useful materials to guide the design process. She is very generous with her time and provided outstanding thoughtful responses to my questions.
A MASSIVE transformation took place. I designed a beautiful garden from scratch and planted it. I know all of the steps and considerations needed to design a garden. I loved Amy's step by step approach. It was so logical and practical and effective. I always wondered why there wasn't a course like this, and then I found it! If you are a gardening novice and are remotely considering this course, take it. You will be happy you did.

This course has changed the way I think about gardening and has inspired and empowered me. I am so grateful that I found Amy and Pretty Purple Door. I have a new hobby I will enjoy for many years as a result!"
-Melissa P. (Zone 6B)
A Step by Step Approach to Garden Design
Why is no one teaching gardening in a step-by-step way? It's maddening that we have to plow through piles and piles of information and end up even more confused about what to do than when we started. I've even met trained landscape designers that still don't have a process that they follow to get beautiful, consistent results.
To make a long story short… I took a winding, difficult road to creating a four-season landscape. I spent way too much money on the wrong things. I killed way too many plants (RIP to all of my casualties). I patiently waited for plants to grow, only to realize that I picked ones that looked like crap together.
I did this for years… ripping everything out and starting over… multiple times.
Finally, I began using graphic design principles I learned in school to actually design my garden beds. That was when gardening really "clicked" for me. I know my journey seems obvious and straightforward. But, it wasn't a connection I made for a very long time.
Once I did this, I was able to turn my gardens into my canvas.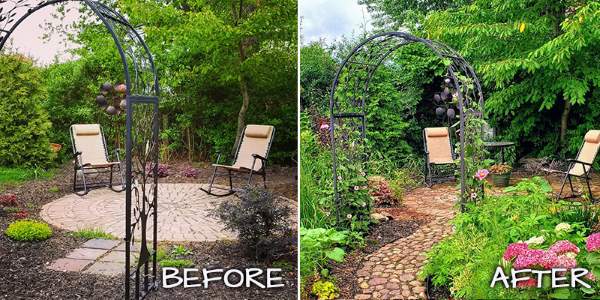 My garden, Before & After
Garden design became so much fun and a unique way to express my creativity. I know that gardening is a hobby that will reward me for the rest of my life.

I want this for you, too. And I don't want you to have to wait years, waste money and make all the same mistakes I did to get there. So, I'm teaching my garden design framework along with all of my secrets in this course! Step… by step… by little baby step.
What To Expect
After you take this course, you'll use my design framework to confidently design a beautiful, colorful garden that will bring you joy and a sense of achievement. FINALLY understand how plants work together and the framework that makes it easy as ABC.
📐 In the course, you'll be creating a plan for one garden bed with dimensions around 15' wide x 6' deep. This can easily be adjusted to any size garden bed you are working on.
🔁 Repeatable Garden Design Framework that you can use over and over to design other areas of your landscape.
📔 A downloadable workbook will help you to stay organized as you go through all of the lessons. And, you'll get my Garden Planning Worksheets along with an entire module walking you through how to use them.
📹️ 4+ hours of video content where I'll be teaching you my step-by-step framework. It's a self-paced course, so you can start at any time and complete it on your own schedule.
🗺️ 27 designed garden layouts that make it easy to arrange your plants like a professional.

🌿 Plant ID Made Easy guide that will show you how to identify a plant's characteristics, just by looking at it!
👩‍🌾 Membership to the private Facebook group where you can ask questions and learn from fellow gardeners who have gone before you.

📊 For a limited time... access to my personal plant database with tons of long-blooming plants that you can use in your own garden.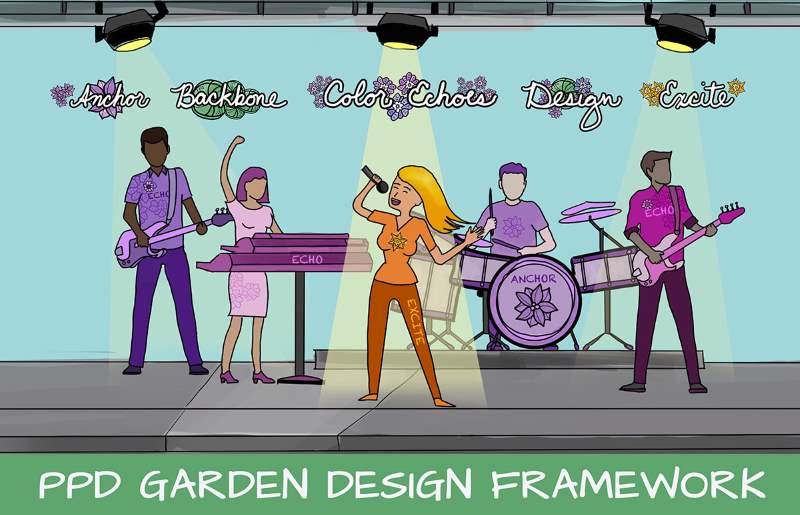 4-Season Garden Design Course Framework
Here's a peek at the framework you'll be learning…
A – ANCHOR – how to choose an anchor plant that will create consistency, unity and flow in your landscape.
B – BACKBONE – how to build the backbone structure of your garden so it looks great even when it's not in bloom.
C – COLOR ECHOES – how to use color to support your main anchor plant.
D – DESIGN – building out your garden so it looks great in all seasons.
E – EXCITE – Adding excitement to your garden
F – FINALIZE – Using the garden planning worksheets to finalize your planting plan.
G – GET TO IT – Now that you've learned how to create your four-season garden, it's time to put it all together.
Testimonials & Success Stories
Here's what some other home gardeners have to say about the Design Your 4-Season Garden course! As an educator, I could not be more proud of this wonderful group of students <3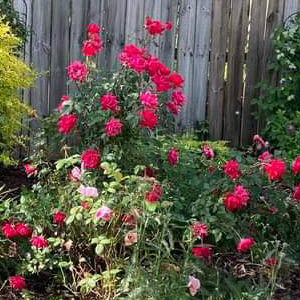 "I've tried so hard to beautify my yard with a garden here and a garden there. I have such grand dreams in my mind of what it will all look like when I'm done. I picture myself sitting outside surrounded by gorgeous blooms, but the reality is pretty disappointing. Before this course I felt really overwhelmed with trying to create a cohesive and enjoyable garden. My gardening was very random, which sometimes worked out well (by accident) but oftentimes left me underwhelmed and frustrated with my garden areas. The step-by-step planning of a cohesive well-thought-out garden was exactly what I needed! Everything made sense once I put the knowledge I learned into practice. This course has given me confidence that I can create a beautiful space in my yard for any season of the year. I would definitely recommend this course to others, particularly those like me who might be struggling with the actual planning aspect of gardening. If you're tired of wasting time randomly putting plants together in your garden that ultimately do not work or that do not work together, this course will give you tools to coordinate and PLAN your garden space. If you struggle with being a not-the-best-planner personality like me, if you fly-by-the-seat-of-your-pants like me (with often lackluster and frustrating results) and are looking for a "magic formula" for planning a successful garden, I think this course is what you're looking for! This course teaches some really great basics that you can use to build a uniquely-you garden that works."
-Jaime T. (South Carolina, Zone 8)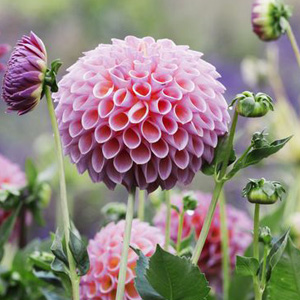 "The course is great. I feel more prepared when I walk into a garden center now. My trips don't feel as frenzied as they used to. I can pass a pretty flower now if it doesn't fit into my plan."
-Cynthia C.
As you can see, my student's garden plans are as unique as my students. And I LOVE it that way.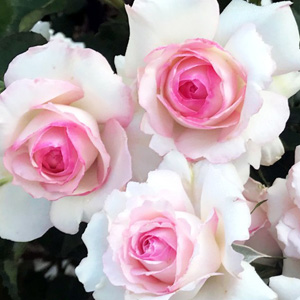 "Finally! A clear, concise and methodical (and friendly) resource for people who love gardening but don't have landscape design degrees. I spent years searching online for usable information on plant bed design, plant selection, and plant placement. Everything else I've encountered has been complicated, confusing and/or incomplete. NOT HELPFUL! By not having a strategy, I not only suffered casualties and wasted money, but I wasted years I could otherwise spend enjoying a maturing landscape. Amy's "chill" personality and teaching style and tools (clear and user-friendly) are excellent. The money you save by having thriving, healthy plants (instead of casualties) will more than compensate for the cost of tools and/or courses you purchase from Amy. Just remember, a goal without a plan is just a wish!"
-Miyoko (Washington, Zone 8)
Course Curriculum
Setting the Stage
Available in days
days after you enroll
Landscape Layers
Available in days
days after you enroll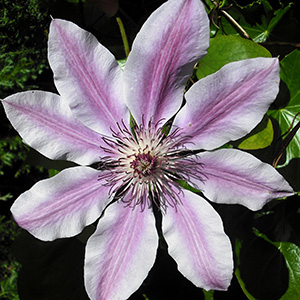 "Last week--before I found your course--I was so bored and restless. Now it seems I don't have enough time in the day to do/think about all the possibilities!"
-Ginny F. (Washington, Zone 8)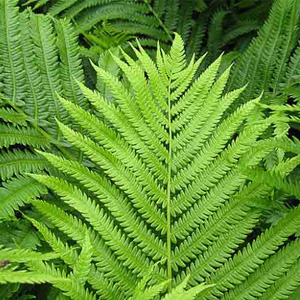 "We moved into our house 3 years ago and I've been struggling to get the landscaping to match the vision in my head. One problem is that I've been trying to make it work around things that were already there, but I don't love a lot of them, so I think I'm ready to let them go and start from an almost blank slate. I've only gotten through the first few sections of the course, but I already feel like I have a more clear direction, so I'm really excited!"
-April S. (North Carolina, Zone 8)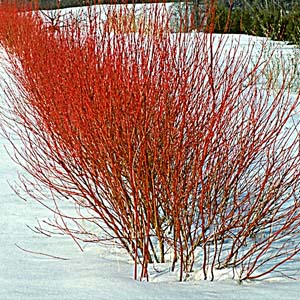 "Thank you again for your 4 Season Garden course. It's made such a difference in my whole approach to gardening. I'm much more relaxed and at ease knowing I have a plan and a strategy now. It allows me the time to enjoy the process - to literally stop and smell the roses! If you made some garden signs saying, "This Garden was made possible by Pretty Purple Door!", I would surely buy one and proudly display it :)"
- Mary NK
Student results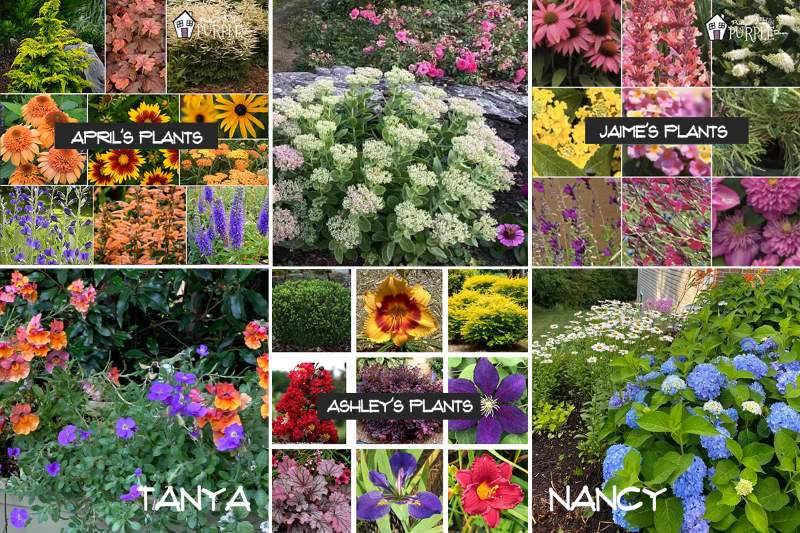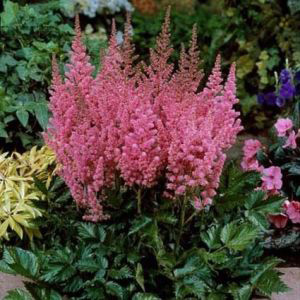 "Am taking the class now and absolutely love every minute. Been gardening for years and there is a lot of wisdom here."
-Joanie B. (Zone 8B)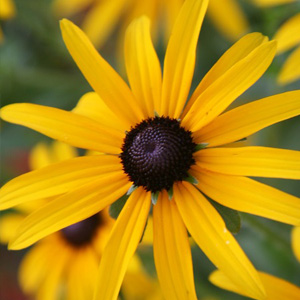 "This course is by far the best investment I've made so far this year. I'm going slowly because I'm enjoying it so much. It makes perfect sense and is backed up by historical fact and evolutionary concepts of both gardening and design... Gardening used to be my passion. My partner now says it is my obsession. I have thrills of pleasure when I think of the adventure of creation."
"I do NOT regret taking this course. It is a wonderful gift to myself for years to come. MERCI BEAUCOUP!"
-Nafee F. (Zone 6)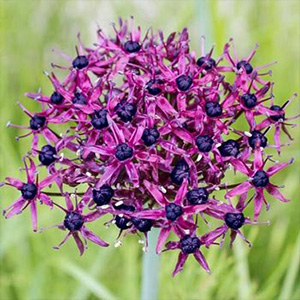 "Hello, I have watched 30% of the videos and I am already seeing some things I can do differently around here... I have big dreams now! Love your course!"
-Cindy O. (Washington, Zone 8)
Who is this course for?
This course is made for home gardeners and aspiring landscape designers that want to design beautiful, unique landscapes. If you're interested in how to combine plants and want to learn the tricks and tips of design and color to create a unique landscape oasis, this course might be for you.
This is truly a step-by-step garden design framework. I've taken my years of knowledge and experience to boiled it down into a successful, repeatable process that you can use over and over again. This course will help you to understand garden design and empower yourself to make the right plant and color choices!
I've designed this course with creative souls in mind; those who want to learn more about the wonderful life-long hobby of gardening. It will open up a world of creativity for you… each and every time you step outside! Even if you don't think you have a creative bone in your body, you'll finally have the tools you need to unleash your inner garden guru.
Using my garden design framework, we will go through each and every step to create your dream landscape. It truly is a fast-track approach that will get you results in less time and with less money. You won't have to figure it all out on your own like I did.
By the end of this course you'll have designed your first beautiful, 4-season garden bed from start to finish–with me! And, you'll gain confidence that will empower you to continue tackling each area of your yard.
Who shouldn't take this course
If you are looking for a set-and-forget garden plan and aren't interested in how garden plans are designed, you may be better served by hiring a local professional to help you.
This course provides a framework to plan and design your garden beds for 4 season interest; i.e. how to lay out plants within your garden beds. This course will NOT teach you how to plan hardscaping, design layouts or develop budgets for landscaping your entire property. We only focus on what's inside the garden beds.
This course is not a quick-fix solution to a landscaping problem you may be dealing with. So, if you're trying to solve a specific problem, or just need to choose a few plants where others have died, this course may not be the right fit.
Your Instructor
My name is Amy and I'm the founder of Pretty Purple Door. I've been a garden designer since 2014 and graphic designer since 2005. I help garden lovers design beautiful landscapes that are colorful in all four seasons, show off your personality and suit your lifestyle.
My work has been featured in publications like The Family Handyman, Buzzfeed, Country Living Magazine and more.
In my Design Your 4-Season Garden course, I teach the exact framework I use when designing gardens for myself and/or clients. This framework will you the skills you need to confidently create a dream garden that's uniquely you. It's really fun and makes designing a garden a lot less stressful!
It wasn't always like this for me, though. I struggled a lot and nearly gave up on my dream garden. But once I figured out this step-by-step system, everything clicked for me. Now, gardening has become such an amazing creative outlet for me. I know it's a hobby that will reward me for the rest of my life... and I want this for you, too. So, I'd love it if you'd join me inside!
Frequently Asked Questions
When does the course start and finish?
The course starts now and never ends! It is a completely self-paced online course - you decide when you start and when you finish. There's more than 4 hours of video lessons included. Most students get through the content in about 2-3 weeks.
How long do I have access to the course?
How does lifetime access sound? After enrolling, you have unlimited access to this course for as long as the course exists - across any and all devices you own. You'll even have access to any future updates.
I live in ____ city/country. Will the course work for me?
Yes. You can create a unique garden based on my framework no matter where you live. The course is based on garden design principles that will help you come up with your garden color scheme and choose plants that will bloom sequentially throughout the seasons. However, I do not choose the plants for you... that part is up to you based on the framework you learn and the resources I provide... which makes it completely location independent. I have students all over the USA, Canada, Europe and beyond!
How much does this cost in my currency?
Where do you live?
I live in Northeast Pennsylvania, USA, near the Pocono Mountains. If you're familiar with the TV show The Office, Scranton is very nearby. My gardening zone is 6B.
Do you offer consults or can I hire you to do this for me?
No. Unless you live nearby (Northeastern PA), I do not offer consults or design garden plans. Hiring a local professional who is familiar with your climate and conditions is a better option.
How long do I get access to the Facebook group?
You can stay in the Facebook group as long as you'd like. There's no time limit.
How did you arrive at the course fee?
What if I'm unhappy with the course? Is there a guarantee?
I would never want you to be unhappy! If you are unsatisfied with the course, please contact me within 30 days of your purchase and I will give you a full refund.
What if I get stuck? Do you provide any support or feedback?
Yes, you can get support through the Facebook group. And, if you're not on Facebook you can also reach out via email if you have questions or need clarification. This isn't a one-on-one program, but my team and I do try to provide you with the support needed to ensure you're successful!
Do you offer a payment plan?
What if I still have questions?